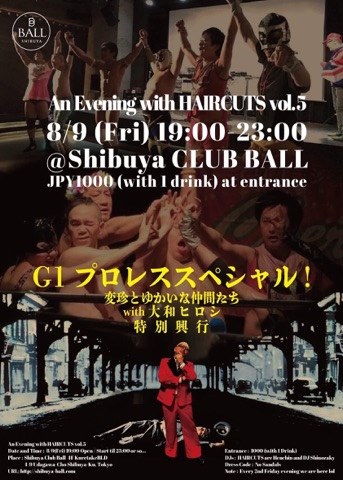 An Evening with Haircuts – G1プロレススペシャル –
Event Navigation
An Evening with HAIRCUTS – G1プロレススペシャル –
@Shibuya Club Ball
OPEN 19:00-23:00 ¥1000/1D
ALL MIX
Entrance: 1000 (with 1 Drink)
———————-
毎月第2金曜日19〜23時は渋谷Club BALLでAn Evening with HAIRCUTS
8月はプロレススペシャル!G1クライマックス武道館3連戦を前に、プロレスDJ達によるBtoBスペシャルや、変珍とゆかいな仲間たちによるクラブプロレスを開催!プロレスラー・大和ヒロシも参戦決定!
Tommy DeVito: You know Spider, you're a fuckin' mumbling stuttering little fuck. You know that?
変珍、DJ Shinozaky によるDJクルー、その名もHAIRCUTSがノンジャンルミュージックで渋谷の週末を盛り上げます。待ち合わせがてらのゼロ次会、クラビング前のウォームアップ、様々な用途で老若男女初心者経験者卒業者の皆様のお越しをお待ちしてまーす!
An Evening with HAIRCUTS vol.5
Date/Time: 8/9(Fri) 19:00 Open/Start til 23:00
Place: Shibuya Club Ball
Address: 4F Kuretake BLD 4-9 Udagawa-Cho Shibuya-Ku, Tokyo
URL: http://shibuya-ball.com
Entrance: 1000 (with 1 Drink)
DJs: HAIRCUTS are Henchin and DJ Shinozaky
Dress Code: No Sandals
Note: Every 2nd Friday evening we are here lol
—————
WELCOME !




For Foreign Customer
Entrance Fee ¥0
You have to order at least
one drink per guest.
1st Drink = ¥1000
less than ¥600 on drink menu