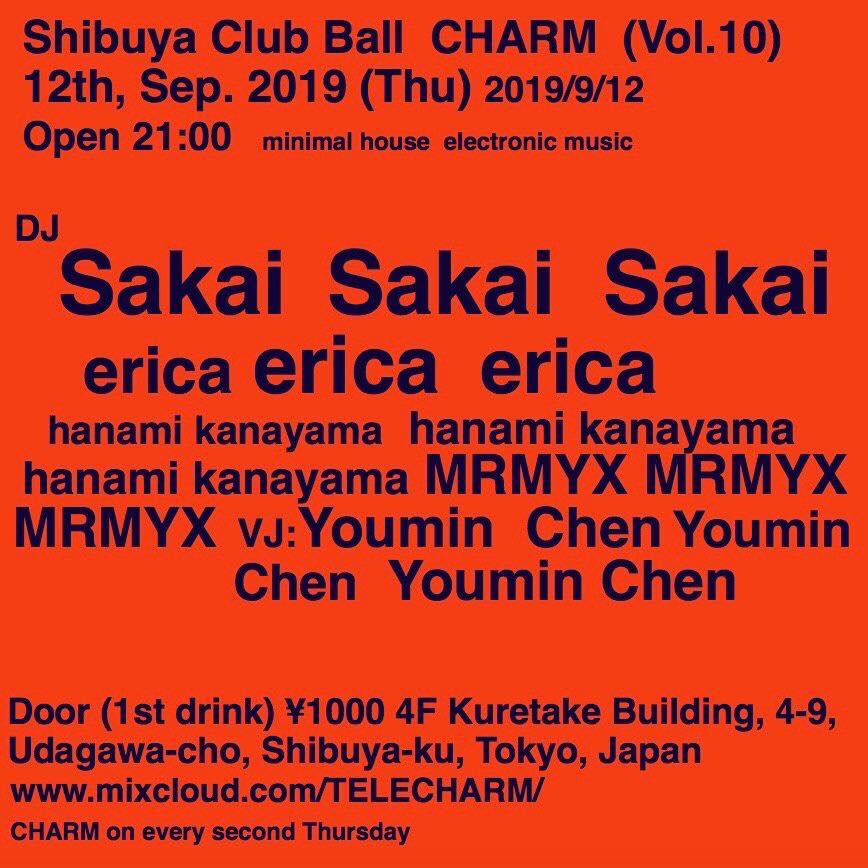 CHARM Vol.10
CHARM Vol.10
OPEN 21:00〜 ¥1000/1D
HOUSE / TECHNO
DJ
Sakai
erica
hanami kanayama
MRMYX
VJ
Youmin Che
渋谷は宇田川町の看板的ビル「くれたけビル」の4階に居を構える老舗小箱クラブ「ボール」にて、毎月第2木曜日に催されているパーティー「チャーム」。
元々はハヤトというDJが主催していたパーティーだったが、彼のDJ活動の休止に伴い、この第2木曜日の運営担当がミスターミックスに受け渡された。「チャーム」という名前は以前から使っていたものをそのまま使用している。
レギュラーDJはミスターミックスと金山はなみの2人。
毎回2名のゲストDJを呼んで開催している。
レギュラーDJの2名はもとより、ゲストDJも毎回ハイクラスなDJたちを呼んでおり、木曜とは思えない濃密な選曲とプレイで時間を過ごすことができる。
「ボール」の構造はバーフロアとダンスフロアが縦に並んでいるため、バーカウンターで音を聴きながら会話を楽しむこともできるし、小規模ながら高音質なサウンドシステムが設置されているダンスフロアで思う存分音を聴くこともできる。ワンフロアのため一晩の流れを一望できるのも小さなクラブならではの良さ。
DJたちが小さなクラブだからこそかけたい曲、エレクトロニックな音楽、軽いノリのダンスミュージックと美味しいお酒が平日の深夜からファーストドリンク1000円という低価格から楽しむことができる。
「良い音」と「良い出会い」と「楽しいパーティー」という芯はブレずに、しかし毎回色の変化するこの「CHARM」にぜひ足を運んでみて欲しい。
"CHARM" is a party held on the second Thursday of each month at long-established small club "BALL", which is located on the 4th floor of Kuretake Building, in Udagawa-cho, Shibuya.
Originally it was a party hosted by DJ HAYATO, but due to the suspension of his DJ activities, in charge of organizing this second Thursday was handed over to MRMYX. The name "CHARM" is the same as before.
The residents are MRMYX and Hanami Kanayama.
Two guest DJs are invited every time and held.
As well as two resident DJs, also about guest DJs, they are high class every time, so you can spend time with good tunes and playing that you can't think it"s Thursday.
"BALL"'s structure has a bar floor and a dance floor side by side, so you can enjoy conversation while listening to the sound on the bar counter, or you can listen the sound on the dance floor where a small but high-quality sound system is installed. Because there is one floor, that also you can overlook the flow of one night is the goodness of a small club.
You can enjoy tunes that DJs want to play just because at a small club, electronic sounds, light dance music and delicious liquor from weekdays midnight at a low price of 1000 yen for a first drink.
Keeping the axis of "good music", "good encounter" and "fun party" but change color every time, please visit this "CHARM" by all means.
MRMYX
MYL
—————
WELCOME !




For Foreign Customer
Entrance Fee ¥0
You have to order at least
one drink per guest.
1st Drink = ¥1000
less than ¥600 on drink menu