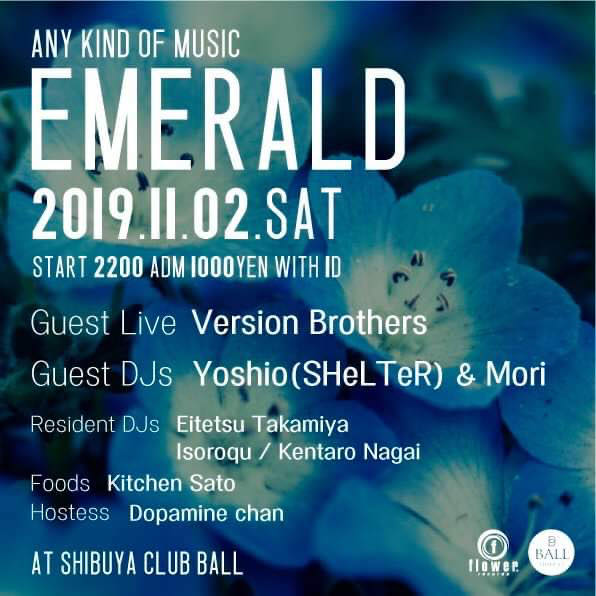 EMERALD
Event Navigation
What's Emerald?
Since 2000.
SHIBUYA CLUB BALLにて現在も続く中では最古のレギュラー・パーティ。
"Any Kind Of Music"をテーマに、高宮永徹、ISOROQU、永井顕太郎のレジデントDJに加え、多彩なゲストDJを迎えて、ハウス、ディスコを軸にしつつもジャンルレスな選曲で、毎月第1土曜日のSHIBUYA CLUB BALLを盛り上げています。
更に、キッチン佐藤による絶品フード、そしてホステスDopamine-Chanがパーティに華を添えています。
—–
EMERALD
OPEN 22:00〜 ¥1000/1D
Guest Live
VERSION BROTHERS
Guest DJ
Yoshio (SHeLTeR) & Mori
Resident DJ's
高宮永徹(Flower Records)
ISOROQU(Too Rooms)
永井顕太郎
HOSTESS
ドーパミンちゃん
FOOD
キッチン佐藤
Supported by Flower Records
【 VERSION BROTHERS Profile 】
シルクスクリーンでDUBを表現するアートレーベル、
"RASTAFA Riddim"に集う仲間達で構成されたDUB REGGAE BAND、VERSION BROTHERS。
10人以上からなるメンバーで抜き差しが繰り返され、アレンジは変わり、一度として同じ演奏は無い 。LIVE &DIRECT
2019.7.17 First 7inch "STAY POSITIVE DUB" Droped
地元八王子SHeLTeRでのレギュラーダンスパーティは奇数月第4土曜日。
RASTAFARiddim presents "POTHEAD"
2019.11.23 POTHEAD#35 Guest Live "英Rocks"
—–
WELCOME !




For Foreign Customer
Entrance Fee ¥0
You have to order at least
one drink per guest.
1st Drink = ¥1000
less than ¥600 on drink menu