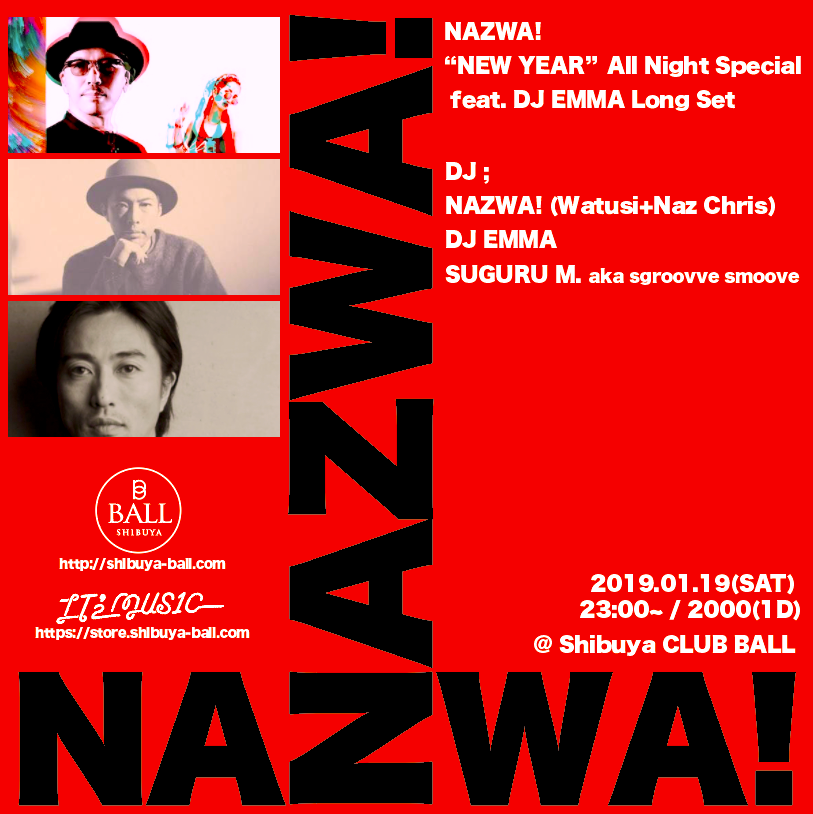 NAZWA ! "NEW YEAR" -All Night Special feat. DJ EMMA Long Set-
NAZWA !"NEW YEAR"
-All Night Special feat. DJ EMMA Long Set-
Ring Link Music
OPEN 23:00~ ¥2000/1D
DJs:
Watusi (COLDFEET)
Naz Chris (PLAYCOOL)
Feat DJs:
DJ EMMA
SUGURU M. aka sgroove smoove
今年でCOLDFEETも20周年、メジャーデビュー40周年を迎えたWatusiと、ロンドン生まれ、インド・日本育ちのDJ/マルチメディア・ キュレーターで、 近年様々なClubにおいて若手オーガナイザー・ プロデューサーとしても多忙なNaz Chrisという世代・性別・国やジャンルを超えた2人がまさかのダッグを組み、SHIBUYA CLUB BALLで第1月曜の週末の浅夜を心地よく深夜へと繋ぐウォームアップ・パーティをプロデュース!
テーマは"繋がり"、そして"垣根"を超えユナイトする"WA (輪)"。 出演者それぞれの"Ring (輪/環)が"Link (連結)"していく、音楽とカルチャーの在り方=【リング・リンク・ミュージック(Ring Link Music)】を提唱し、多彩な出演者たちと共にClubでの浅夜をDJやスペシャルなLiveで"繋ぎ"、"Link"させていく。全てのエイジ、ジェンダー、ナショナリティーにおくる新しい時代とシーンの幕開けをウォームアップする新しいパーティ、【NAZWA!】がここに誕生する!!
—————-
DJ EMMA
1985年よりDJを始め、東京各所のナイトクラブで数々のパーティーを成功させる。1994年に「GOLD」と契約。クローズするまでレジデンスとして活躍、そのアグレッシブなプレイによって土曜日をまとめあげ、東京中の遊び人(ナイトリスト)たちに決定的な存在感を知らしめた。1995年にはDJプレイに留まらず音楽制作を開始。川内タロウと共に「MALAWI ROCKS」を結成する。同年NIGHTGROOVEより発売された12inchシングル"Music Is My Flower"が世界的ヒットを果たす。同じく1995年から発売され、日本を代表するMIX CDとなった「EMMA HOUSE」は、24bitマスタリングというMIX CDの枠を超えた徹底的な音作りとダンスフロアの雰囲気を閉じ込めた作品として好セールスを記録。2014年新たな活動を始めたNITELIST MUSICから、日本発のACID HOUSE "ACID CITY"を発売。HEARTBEATから2年連続リリースとなったMIX CD "MIXED BY DJ EMMA vol.2″と共にダブルリリースツアーを全国15ヶ所で行う。常にダンスフロアとHOUSE MUSICを中心に新しい音楽を最高の技術でプレイし続けるスタイルはKING OF HOUSEと呼ばれる。
2016年には活動30周年を記念したEMMA HOUSE XX〜30th Anniversary〜をユニバーサルミュージックよりリリース。
2017年、プロデュースユニットNUDE名義でNO PICTURE(ON MY PHONE) feat.ZEEBRAをリリースし、さらには最新作ACID CITY3を10月にリリースするなど、DJ及びプロデューサーとして精力的に活躍中。
INSTAGRAM
https://www.instagram.com/djemma_nitelistmusic/
TWITTER
https://twitter.com/nitelist_music
facebook
https://www.facebook.com/pages/DJ-EMMA/132286593494703
NITELIST MUSIC
http://www.nitelistmusic.com/
English
Starting his DJ career from 1985, he lead numerous parties in night clubs around Tokyo to great success, and then signed to 'GOLD' in 1994. As a residence DJ throughout, his aggressive play style quickly became known to Tokyo night-outers (NITELISTS). By 1995, he progressed his professionalism outside DJing to musical production, and formed 'MALAWI ROCKS' together with Taro Kawachi. On the same year, "Music Is My Flower", a 12 inch single released from NIGHTGROOVE became a hit across the world. Another 1995 release, "EMMA HOUSE", which became a world renown MIX CD from Japan enjoyed rocket sales with its supreme sound making-an astonishing 24 bit mastering which was well above MIX CD standard quality-and the excitement of the dance floor in a package. In 2014, he co-founded a new label NITELIST MUSIC, from which he released the Japan-made Acid House title, "ACID CITY". Along with his MIX CD, "MIXED BY DJ EMMA vol.2", a subsequent release from the last year, he toured around 15 venues across Japan. Known as KING OF HOUSE, he has and still plays fresh new music mainly from House Music with remarkable technique. 
In 2016, marking his 30th anniversary of DJing, he released "EMMA HOUSE XX~30th Anniversary~" from Universal Music.
In 2017, releasing NO PICTURE(ON MY PHONE) feat.ZEEBRA as NUDE, a producer duo, with another upcoming release "ACID CITY3" in October, DM EMMA never ceases to surprise his audience as a DJ and as a producer.
——
SUGURU M. aka sgroove smoove
1990年代初頭より、MILOS GARAGE・CAVEなどにてCLUB DJのキャリアをスタート、 その後、麻布十番界隈にてDISCOの洗礼をうける。
Dance Classics・Garage・House をメインに、現場第一のDJ~制作活動にてキャリアを形成。
90年代半ばより、渋谷にて4DJ'S RECORDSを主宰、MIX TAPE / MIX CD「DIS-CO-NNECTION」シリーズでは9作品をリリース,全国にファンを多数獲得。
2014年には、MIX TAPE専門サイト、MIX TAPE TROOPERSにて、Mixtape Top 50にも選出される。
並行してDJ・製作活動を都内各所にて精力的に行う。
2010年、SPECTA (Flower Records) 名義での活動開始,「Ryo Kawahara / Gotta Give It All Feat;Georg Levin」SPECTA REMIXをリリース。 現在まで,1st シングル "REVIVE"、2nd シングル "CHOICE"をリリース。3rd シングル "SHOUT ALT"は、E-ONKYO MUSIC ハイレゾチャートにて1位を獲得。
2017年、DISCO CLASSICSの名曲、MELBA MOORE / PICK ME UP I'LL DANCEを多幸感溢れるカバーにてリリース。
現 Shibuya CLUB BALL 副代表 / COO。